These are designed and fabricated for our customers for the pumping of cement grout in pressure grouting services. These comes in various capacities and maximum pressure reached is 12 barg; however, higher pressure models are available on request. The complete system uses a pair of VFD-operated MONO heavy duty progressive cavity pumps which can handle different liquids at the same time. The automated system is controlled by a touch screen PLC and can record usage, batch processing, show flow and pressure readings etc.
These systems score in simplicity and user-friendliness and can come in single or 2 pumps design or according to customers' requirements. More than 7 of these skids have been supplied so far and we are working towards a Generation 3 Design in 2012 since it was successfully implemented in 2010.
Each of the skids is fully fabricated in-house and wet tested before they are allowed to be dispatched to be used on site. Calibration services for the instruments are also provided when required.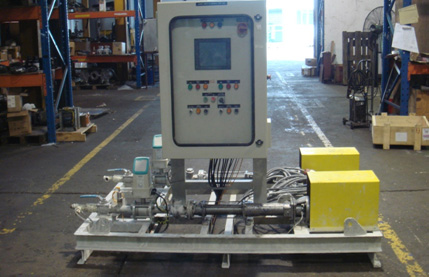 Customised Filtration Skid
These are specially designed and fabricated for our customers for offshore liquid filtration for a pilot project. The filters have air purge feature installed which is used as an aid to remove the sludge. The complete skid is assembled and pressure tested at our factory. The pipeworks and valves are arranged for both filtration and backwash cycle by simple operation.
Deltafield can custom built any kind of filtration skids and/or basket strainers according to customer requirements with no limitation to shapes and sizes.
Portable Pumping Skid (Stanless Steel Trolley)
These are designed and fabricated for our customers to suit a "mobile" pumping requirement. Pump which is assembled with hose shanks and quick connecting fasteners are mounted on a stainless steel trolley.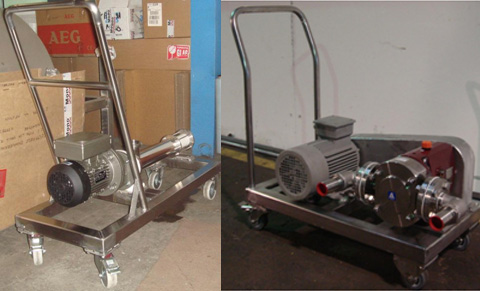 Customised Chemical Mixing System
This is a second system which we have built for a customer dealing with surfactant used in wafer industries.
The first system was built some 6 years ago and was operating smoothly with little maintenance; thus the customer was satisfied and purchased another unit to cater for their expansion.
This is a classic example of how Deltafield help our customer to design & built a system customised to their requirement starting from verbal discussion to detailed drawings and finally built and integrate to a functional, durable and working system that provide accurate mixing concoctions.
The system is built into a compact form fully in stainless steel and incorporated with a user-friendly HMI and efficient programming which enable operator to operate at ease without complicated steps and operating sequence to follow.