One-Stop System Integration Solution
At Deltafield, we stay ahead of the competition by offering the full spectrum of engineering services and system integration work. From simple metering units to complex chemical processing systems, our professionals are focused on innovation. We pride ourselves on meticulous workmanship and attention to detail in the delivery of reliable chemical handling and processing systems – from design and fabrication to the final testing stages.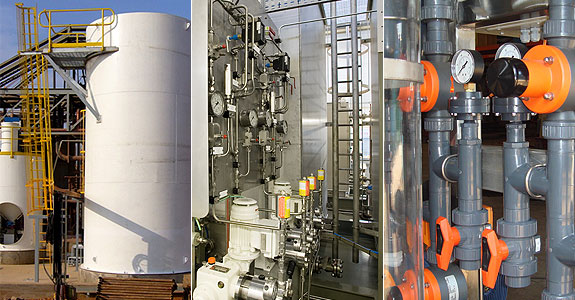 Our access to industry specialists and key suppliers is backed by dedicated engineering expertise, a well-equipped shop floor and good supply chain management. We maintain an in-house capability for a wide variety of tooling and machining work. That's why you can count on Deltafield for timely deliveries and responsive service.
Our system design philosophy adopts a modular approach because we understand the nature of routine upgrades and maintenance. As a result, you benefit from less disruption to operating schedules and faster turnaround times when your equipment undergoes regular servicing.
Our turnkey engineering expertise covers:
Consultation and requirements gathering
System design, fabrication and assembly
Component selection
Process control and programming
Control panel design
Development of touch screens and other user-friendly interface systems
Technical drawings and documentation
Testing and supervision
System installation and integration
Maintenance and modification work
In-house welding expertise