Our systems are designed with customer consideration at heart.
Delta-DP activates polymer efficiently, reduce chemical consumption and simplify operator maintenance due to our plug and play philosophy.
Every system is pre-tested in our workshop to guarantee the quality of each delivery.
Delta DP – Dry Powder Make-Up Systems
Deltafield's Delta-DP dry powder polymer Make-Up System is a self-contain batch unit that are designed to prepare and activate any types of dry polymer into liquid polymer.
The dry powder polymer is transported via blower and venturi system to the wetting head to ensure pre-wetting of the polymer prior entering the mixing tank for homogenise mixing before transferring to storage tank for maturation and aging.
The followings are the designs available:-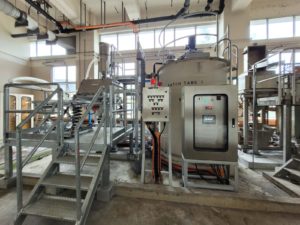 Deltamix – Liquid Polymer Make-Up Systems
The Deltamix is a fully automatic liquid polymer preparation system designed to mix liquid polymers efficiently in a simple, one-step process. An in-built batch production sequence functions together with a programmable logic controller to produce the desired blends and transfer the final mixture into a storage tank without a separate transfer pump.
For more details, please click here.